Genesis Cheats
Mission Codes
These mission codes are for campaigns 2, 3 and 4:
Campaign #2 - BQJZAEX
Campaign #3 - TLJAOAZ
Campaign #4 - ITOIPEK
Here are some tips on how to attack the Ambassador's Camp:
Get plenty of armor.
Take out the radar - down and to the right of the road approaching the camp.
Fly straight up the road towards the camp.
Take out the M-38 with 2 Hellfires.
Hang a left on the next street and an immediate right around the building.
Right around the building will be a tank and a Rapier/SAM gun.
Collect the ambassador - he is under one of the buildings (random).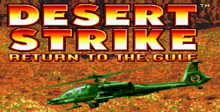 SNES Cheats
Ten helicopters
Enter BS9JS27 as a password. Press Start to begin a new game or enter a valid level password to resume at the corresponding level.
Level 1
Password is 3ZJMZT7.
Level 2
Password is K32L82R or RZJ23J3.
Level 3
Password is JR8P8M8 or K32H82L.
Level 4
Password is F9N5CJ8 or RR8JKHD.
Victory
Password is 89CCWQD.
Unlimited lives
Enter 006AA44A79 as a password.
Extra armor
Enter 0049D0TFFFE as a password.
Unlimited fuel
Enter 00689C4A79 as a password.