Sylvester and Tweety in Cagey Capers Cheats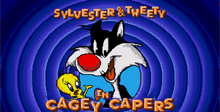 Genesis Cheats
Interesting
Machine: Genesis.
Manufacturer: by Time Warner.
Warping Putty Tat!
With this trick, you can jump Sylvester directly to level five at any time. Good luck!
Trick:
Start the game and pause at any time.
Once you're paused, press A, A, A, B, B, B, A, then press Start.
You warp directly to level five - Hyde and Shriek. My, how Tweety has grown!