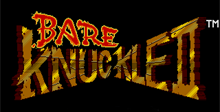 gabbe posted a comment: 9 years, 9 months ago

This game is Hot! play it and then tell me what you think.
R posted a comment: 9 years, 2 months ago

I need the controls and I need to know how to type and enter my name after losing and how to bring my player back into the game. And if you can CHEATCODES!
Justin Garcia CoolDuelist posted a comment: 9 years, 2 months ago

I'll tell you the controls, You type your name by pressing left or right and when the letter you want is selected by "A" (The Sega Control "A", not the "A" key on your keyboard). You bring your character back by pressing start and you can use Cheat Codes, I can give you some if you don't already have. I'm tired and sleepy right now so I'll type the controls tomorrow or Whenever Possible. Waits a minute I already typed it before, I'll just quote myself, lol.

"Actually I would Suggest changing the controls. Do you see the Options Button? Click on it and the menu pops up, click Set Config. When a pop up appears, click on the Controllers Tab. Do you see where it says Port 1? Click that and change that to 6 Button Pad and do you see where it says Keyboard? There should be a button that says Define right next to it, click it and then set it to the way you wish. I use an actual controller but sometimes I use the keyboard and when I do I set it up the following way (The Left side is the Control and the right is the Keyboard): Up = Up; Down = Down; Left = Left; Right = Right; A = A; B = S; C = D; Start = Enter; X = Z; Y= X; Z = C; Mode = V I find it's easier to play this way but you can set it anyway you want, you can even use the Number keys. Good luck and as I always say, Happy Gaming :)!"
neil posted a comment: 9 years ago

someone PLEASE help me i have finally found my favourite game streets of rage 2 but the sound is jumping and i dont really know the controls please please help me i was going as far as having to buy a mega drive on ebay so i can play my fav game
gabbe posted a comment: 9 years ago

Yo! homie itz probly because you have alot of stuff stored in your hard drive. ? Does the game move slow when you play ?
neil posted a comment: 9 years ago

yeah it sort of does mate im gutted cause i dont know what to delete i have alot of music on it and i dont know how much to delete to get the game to work properly im gutted mate i really want it to work with music ect im only using the space bar to attack it only works!!!!!!!!!!!
Durail posted a comment: 8 years, 11 months ago

does anyone know if there is a way to get this to play on like a PS1 or PS3, anyway to convert the files or anything
q8 posted a comment: 8 years, 1 month ago

anyone know how to use joystick to play the game ?
Andy posted a comment: 8 years, 1 month ago

There is a help page with all you need to know about custom setting buttons and controls on the main page.
vinx_619 posted a comment: 8 years, 1 month ago

Hey people,if u guys have got any problems about downloading the games and setting up the controllers then there is a 'need help' page and u can clear ur doubts over there.instead of posting comments on random pages