ACME Animation Factory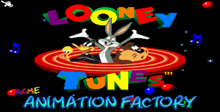 a game by Sunsoft
Platform:

SNES
As in Mario Paint, Acme Animation Factory enables younger artists to use various painting and music programs.
Diversity is the key to this game's attraction. Tired of sketching? Color the unpainted drawings. Composed enough music? Play the Mix 'N' Match or create a fully scored cartoon.
ProTip: Mix 'N' Match matches are often made side by side, so open all adjacent crates.
With Warner Bros, characters as "hosts," each area provides plenty of mind-stretching entertainment.
The bright, simple graphics are mixed with cheerful, cartoony sound effects and music. More voices would've been nice.
With the point-and-click icons, the easy controls let you do everything efficiently. This game might inspire a whole new generation of animators.
To draw and paint with more detail, enter Marvin the Martian's Mission Control and set your cursor speed to slow.
ACME Animation Factory Downloads

ACME Animation Factory download
Take creativity to an entire new level with ACME Animation Factory - where you use your imagination and tools to create your very own cartoon. Created and released by Sunsoft in July 1994, this game provides an easy to use interface where a player is in complete control from designing sets through picking from a roster of Looney Tunes characters to star in the feature. The single player game also allows you to produce your very own scenes. It is compatible with Super Nintendo Entertainment Systems and operated with a gamepad or joystick. As a fully Warner Bros. licensed educational game you can screen it and save it so that you can view later on.