Al Unser Jr.'s Turbo Racing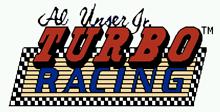 a game by Data East
Platform:

NES
See also: Racing Games, Al Unser Games, Car Racing Games
Take on the hottest tracks in the world as the racing season cruises from Brazil to Spain, then on to Hungary and 12 other countries before you come back to the USA for the season's final challenge.
But getting there won't be easy - you'll have to tap the raw power of your turbo-monster to haul your way past the world's top drivers. And in this game you need a lot more than just hyper driving skills. You've got to control your mechanics and pit crew - together you design and build the perfect race machine for each new track.
On top of it all, Al Unser Jr. is at your side. He'll let you drive his car while he schools you on what it takes to win. And when you think you're ready, you can go start your own race team, build your own car and take on Al Jr. in wide-open wheel-to-wheel action.
Al Unser Jr.'s Turbo Racing. If you think you can handle it!
Al Unser Jr.'s Turbo Racing Downloads

Al Unser Jr.'s Turbo Racing download