Aoki Gentyouhishi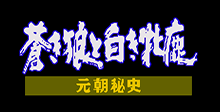 a game by Koei
Platform:

Genesis
Let's return in the times of great empires when the legendary Mongolian Emperor Chingishan conquered half of the world. Now you have the opportunity to re enact his success. Welcome to the 10th century China.
The game reminds of a series of Romance of 3 Kingdoms games but the graphics are surprisingly better and the sound is really breathtaking. Koei has developed a nice game play as well.
Another name of the game is Genghis Khan 2 - Clan of the Grey Wolf.
Aoki Gentyouhishi Downloads

Aoki Gentyouhishi download