Aq Renkan Awa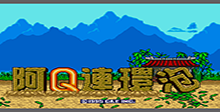 Platform:

Genesis
This is a sweet Chinese game, purposed to teach your kid some Chinese in case your child has some basics of this language of course! :)
The game consists of a series of tests where you are supposed to answer some questions which vary in the category and difficulty level.
So if you know Chinese, it is time to become a brainiac. Accompanied by the nice music, you will have the chance to disentangle Chinese riddles by knowing or randomly pressing the buttons.
Aq Renkan Awa Downloads

Aq Renkan Awa download