Arrow Flash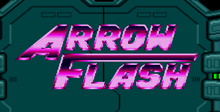 a game by Telenet
Platform:

Genesis
An Alien Invasion!
It was a peaceful day on planet Earth in the year 20XX when they arrived. The first squadron wiped out the Earth's defense grid while the main body ships converged on the center of the Earth Nation government facilities, wiping out all human life in their path. You are a part of the elite Arrow Flash Corp, a group of cybernetic pilot fitted in hyper alloy power suit capable of transforming into a fighter plane in tight situations. The rest of your comrades have fallen, but you remain to carry on the battle! Take on the enemy armada in a fury of photon beams and neutron missiles! In a pinch, you also have the awesome Arrow Flash defense barrier and V Beam! Don't get too confident, however. The alien forces aren't exactly pushovers! They'll be pulling out all of the stops to shove you six feet under throughout your brave mission!
Level One
Here's where you need to power up your ship. The enemies are weak in this area.
Level Two
Visit the planet Jupiter in ways you never imagined! Watch for the red spot!
Level Three
Get ready to watch some of the best special effects ever shown on the Genesis!
Level Four
Pick up the pace a little and try to tackle level 4! You won't be disappointed by the boss!
Arrow Flash Downloads

Arrow Flash download
Levels: 7
Theme: Shooter
Players: 1
Difficulty: Easy
The Earth is once again in the grips of a savage empire bent on the Earth's total destruction! Many different power-ups and enhancements highlight this intense shooter.