Bare Knuckle 3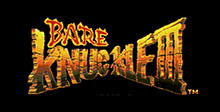 a game by Magical
Platform:

Genesis
See also: Bare Knuckle Games
Manufacturer: Sega of Japan
Machine: Mega Drive
Theme: Action
Release: March 1994
Axel, Blaze and Sammy - the fearless heroes of Streets of Rage 2 - are back for another butt-kicking crusade to rid their town of vermin (Bare Knuckle is what the SOR series is called in Japan. Who knows why Sega changed the title?). Although Axel and Blaze have been unchanged, Max has been dropped in favor of Zan, a wrinkled, bald old dude who has been transformed into a bionic fighting machine by an evil organization. Sammy, too, has grown into a lightning quick teenager from the beaming youngster of SOR 2.
Although the concept and style remain unchanged, several new features have been added. The game has multiple story lines and there are new ways to use weapons, too. Another feature is a new kind of stage where you can ride motorcycles and runaway rail carts.
Clocking in at a whopping 24-Megs, Bare Knuckle 3 is shaping up to be the biggest and the baddest.
Bare Knuckle 3 Downloads

Bare Knuckle 3 download
Manufacturer: Sega of Japan
Machine: Mega Drive
Theme: Fighting
Release: March 1994
We first showed you Bare Knuckle 3 a few issues back, but we thought you'd probably want to see a bit more of this awesome fighting cart. While it has yet to see the light of day in the States, Sega of America said they would be bringing out Streets of Rage 3 at the Summer CES.
The four warriors - Axel, Blaze, Sammy, and Zan - each have a whole slew of moves, not to mention the ultra-cool combo moves that involve a second player. For example, Axel has got a Dragon Smash, and the Grand Upper. All the moves are really impressive, involving lots of animation.
Bare Knuckle 3 has multiple plot lines, and different endings depending on who you are, and where you go. There's also a two-player mode where two players can go up against each other. They can even be the same player.
Bare Knuckle 3 is one of the best side-scrolling fighting carts of all time. Hopefully it won't be too long before we are playing it on these shores. Think you can handle it?
The main characters in Bare Knuckle 3 sport their Streets of Rage 2 costumes, so Axel is blue and white and Blaze is in red. Also, some the enemies have different costumes; in Round 1 Shiva has the dark green costume that he wears as the final boss in SOR3 instead of his normal one. Also, the Electra-women and the new woman punk enemy are somewhat scantily clad in Bare Knuckle 3 and were covered up by Sega of America for Streets of Rage 3.