Barkley Shut Up and Jam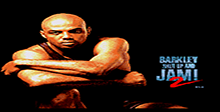 Charles Barkley has entered the Genesis market, and he's not pulling any punches. His trash- talkin', in-your-face, two-on-two street game has all the graphics appeal, sounds, and dunks you'd ever want.
ProTip: Don't pick two players with the same abilities. If you already have a good outside shooter, choose a tough rebounder for a teammate.
What You Got?
Shut Up and Jam! has attractive features. You get 16 players (including Sir Charles himself), each with his own signature moves. You play exhibitions, a multigame series, or eight-team tournaments on seven courts across the country. A multiplayer option enables four gamers to pair up using either EA's or Sega's adapter. There are no zebras, so anything goes. This isn't a game for wimps.
Boys in the 'Hood
The graphics are superb. The sharply detailed players sport realistic moves. What's more, each of the seven courts has its own distinctive urban look. The sound is also top notch, from the squeaking shoes to the groaning players. Barkley's own trash-talking, plus the whistles and comments from spectators, enhance the rowdy atmosphere.
On defense, press Button A to jump and quickly press B to steal the ball in midair. Be sure you're between the shooter and the basket.
Controls are inconsistent, unfortunately. Sometimes they're responsive, but other times, as when the computer goes up for a shot, you're unable to jump quickly enough to block it. Still, this is an excellent game. Want it rough? Shut up and jam!
Barkley Shut Up and Jam Downloads

Barkley Shut Up and Jam download
Manufacturer: Accolade
# of players: 1 to 4
Difficulty: Moderate
Available: March 1994
Theme: Sports
The ultimate two-on-two jamfest starring Sir Charles and 16 of the neighborhood's best streetball players. The game supports the new four player adapter so you can jam with your friends, while Charles offers digitized commentary such as "Time for some pain!" and "Hurts, don't it?" throughout the game. Shut Up And Jam represents the root of basketball. No bleachers filled with fans, you and the guys on graffiti covered asphalt. It's not a game of polished wood, it's a game of fast basketball.
Fancy arenas? Don't want 'em. NBA stars and stats? Who needs 'em? Just two outdoor rims, a ball, and four guys ready for some hard-hitting, elbow-throwing, two-on-two action. That's Charles Barkley's idea of hoop heaven, and that's what you get in this entertaining streetball game, which is similar to, but not quite as good as, NBA Jam.
Charles in Charge
There's nothing fancy here. You play with 16 boyz in the 'hood, each rated in six skill categories.
Some players are great shooters, others are tough rebounders; Barkley, of course, is the most well rounded. Pick your guys, pick your city, and start shootin', with no refs in the way.
ProTip: Balance your team. If you have a good shooter like Gunner, pair him with a rebounder like Chilly.
The graphics effectively capture the urban feel. There are no flashy uniforms, just casual clothes; no cheering crowds in the seven outdoor backgrounds, just the graffiti grunge of cities like Watts and Oakland. It's not attractive, but it's realistic.
The funky music adds to the street atmosphere. The trash talking, though not always clear, adds attitude to the altitude. A rowdy announcer would've pumped up the thrills even more.
Slam Dunk!
The smooth controls mean you'll quickly learn and enjoy. While the signature moves aren't as spectacular as those in NBA Jam, they're almost as fun and easy to execute.
Barkley's abrasive personality turns a lot of people off; his game, though, will turn a lot of people on to slammin' street hoops.
Ever wish you could be a basketball star, well, now you can with Barkley Shut Up and Jam! This exciting sports extravaganza features the one and only Charles Barkley. This multiplayer game allows you to play throughout basketball courts in a variety of NBA cities, excluding Toronto and Vancouver. This action packed sport game 1993 release, developed by Accolade, is compatible with Sega Mega Drive and Super Nintendo Entertainment Systems platforms.
This is a very nice imitation of streetball which has received the acknowledgement from a large number of gamers worldwide. The game was approved by Charles Barkley, an NBA star and that guy played very well.
What we have is a 2 - 2 streetball emulator. You choose the captain and the partner, and then you begin the uncompromising fight with another pair of your opponents. The winner is chosen by the time and scored points. The Tournament mode is also available as well as the opportunity to have four players with the help 4 Way Adapter.
This game is more interesting than NBA Jam. The music is nice, the game play is easy to use, and the graphics are satisfactory. I recommend this game to all the basket ball lovers.