Bases Loaded 3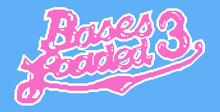 a game by Jaleco
Platform:

NES
See also: Baseball Games, Bases Loaded Games
Jaleco is bringing out the third in the series of it's popular Bases Loaded baseball games. This time, besides improving just the graphics and sounds, the simulation of realistic play has also been enhanced with more features. Play against the computer and it will 'think' smarter and pose more of a challenge than in previous versions. But the player control hasn't been sacrificed as after only minimal practice, you'll be picking off the computer base runners and develop the technique of stealing bases.
Bases Loaded 3 Downloads

Bases Loaded 3 download
Step up to the plate one more time in this classic baseball series. This latest version rates the gameplayer in 13 different categories, has five different difficulty levels, three fields, and an edit function that enables the player to alter team stats.