Battle Squadron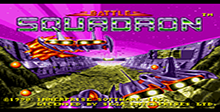 a game by Innerprise Software, Inc.
Platform:

Genesis
See also: Battle Games
Levels: 6
Theme: Shooter
Players: 2
Difficulty: Average
Out of nowhere came a vast empire bent on our galaxy's destruction! You are the only one brave enough to try to halt their plans. Use all of your weapons and bombs to save the Earth for good!
Other games by
Innerprise Software, Inc.
Battle Squadron Downloads

Battle Squadron download
Heads up! If you don't jump on the controls of your super duper Anti-Matter Particle Beam pretty darn quick, the supreme MagnoStryker, your arch enemy, is going to blast you and your entire Battle Squadron right into oblivion! Sound intense? Absolutely! Modeled after the popular Amiga game of the same title, the Genesis version of Battle Squadron (for one or two players) has loads of hot options, including a play-mode setting which ranges from beginner to expert.
Arcade-style action and graphics coupled with an overhead view with vertical and horizontal scrolling enhance the look and feel of high speed flight. Attack Barraxian gunships and retrieve their arsenals, and you'll be well-covered when you head into battle on the planet Terrania -- the cosmic wasteland where your fellow flight commanders are trapped.
This unsuccessful shooter is the product of Electronic Arts. The space plotline and nice graphics make up for its drawbacks. In fact, this is a very mad flying shooter.
Your ship is moving forward shooting at enemies with every stuff available and trying to survive among the hordes of enemies and tons of their fatal charges. The weapon of your gallant ship can be improved in the course of the flight, there are also super-power charges. This game is for 1-2 players.