Bioship Paladin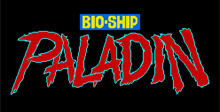 a game by Sega
Platform:

Genesis
Manufacturer: Enix
# of players: 1
Difficulty: Moderate
Available: November 1993
Theme: RPG
Those of you, who have been patiently waiting for another RPG, get ready for this one! Originally titled Lennus, this cart casts you as Chezni, an incredibly gifted student of magic who accidentally creates disaster by taking a dare from a fellow student to climb the city tower to see what is at the top. By completing the dare, you have released a being that is capable of destroying the entire planet of Lennus! Journey through vast lands and learn the secrets of the planet, while having loads of fun laughing at the silly mistakes and other goofy antics throughout the adventure!
Bioship Paladin Downloads

Bioship Paladin download
Another example of the new generation of shooters is this beauty by UPL. Highly detailed backgrounds and challenging game play set this side-scroller light years ahead of the current breed of action game.