The Blue Marlin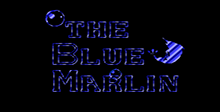 a game by Hot B
Platform:

NES
Something Fishy
You're competing in four deep sea fishing tournaments, one off Florida and three around the Hawaiian Islands. You have 10 hours to pile up as many pounds of fish flesh as you can. Your quarry consists of nine types of sport fish, including Sail Fish, White Sharks and Tuna.
If seasickness is something you identify with fishing, don't worry. You won't suffer the motion of the ocean, but you can listen to the tinny music for an hour with the same results.
The graphics are good, just enough to spice up your fishing.
You cruise around in a boat and navigate through an overhead view. You fight hooked fish from a very nice-looking, angled, behind-the-fisherman. You even get leaping Marlins. The gameplay is simple, but the challenge is immense. Your tackle box contains a Zebco reel, six lures, two types of live bait, and fishing line in five different lengths and strengths. As in real fishing, you must play every fish you hook by skillfully adjusting the reel's drag and pumping the pole to wear the finny fighter down. You might even have to throw your boat into reverse to keep up with a big one. Make the wrong move and the fish snaps your line, or just drags all the line off your reel!
Wake Up and Smell the Bait
As with real fishing, you're either gonna like Blue Marlin, or you're not.
Here's a test: You drag a lure around for five minutes, hook a monster fish, fight it for 20 minutes, the line snaps -- then you do it all over again. Now, if you just thought "Awesome!," you'll like Blue Marlin. If you thought "Get a life!" then Blue Marlin is something you should eat, not play.
The Blue Marlin Downloads

The Blue Marlin download
Type: Sports
Release: 1991
Difficulty: Avg.
Hop in your boat and set sail for some serious fishing action. The Blue Marlin by Hot - B contains all the excitement of deep-sea fishing. Pick your lure and set the line. Struggle as you try to reel in an 800 pound blue marlin, or try for a white shark. There are many different fish and even more areas to fish from. Fans of deep-sea fishing will be pleased to know that The Blue Marlin is on its way.
People say:
7
This game, like its predecessor offers some of the most enjoyable fun you'll find on the NES. The game's not filled with wild graphics or intense action, but it does provide one of the most realistic sports simulations you can find in a video game. A challenging and addictive game!
6
This is a decent fishing simulation. Games have come a long ways since the older games where all you had to do is drop a line into the water and you'll catch anything. This version requires skill, patience and even a bit of luck if you want to catch the trophy sized fish.
6
This is a fishing game for the NES. A pretty unique concept for a video game. The graphics are decent and the sound is average for an 8-Bit cart. The gameplay is very good, but I found that driving my boat around in circles find fish can get repetitive. Great if you liked Black Bass.
7
While Blue Marlin isn't going to win any awards for being the most overwhelming game, it does manage to dish up enough of a good time to make it stand ut from a crowd of me-too titles. Not for everyone, but Blue Marlin, like Black Bass, is addictive and fun.
Fishing is back on NES with this follow up from Hot B. Go to the deep ocean waters to catch Blue Marlin. Troll the waters from your boat and you may get Jaws.
This one's been designed with the input of expert fisherpeople, just as the Black Bass was. And that's no-fish story.