Blues Brothers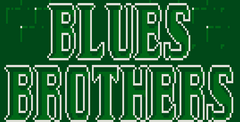 a game by Titus
Platforms: Game

SNES
See also: Blues Brothers Games
The Blues Brothers are back in another adventure dealing with music. Jake and Elwood have their hands full with this one as they search out the jukeboxes in order to complete the levels. It's not as easy as it sounds. They have to confront enemies from below and above. Using records as their weapons, they have a chance to destroy these irritating foes. Look out for traps and falling rocks. Find hidden items, like the hourglass, health hearts, and others that will get the Blues Brothers through the game. Hey, rock 'n' roll is here to stay!
THE GOOD
The ability to play as both characters is a riot. Too funny!
THE BAD
It is quite annoying when you get hit by enemies and you can't control yourself.
THE UGLY
Are records that sharp that they can get rid of enemies? Hmmm...
The Blues Brothers is a video game based on the band The Blues Brothers, where the object is to evade police in order to make it to a blues concert. The Blues Brothers are on the run from the law. It was created by Titus and in gameplay is reminiscent of Titus the Fox. Take control of either bulky Jake or nippy Elwood in this five-level platform game. You must cross a prison, a river and the big city to reach freedom and also you must find your missing records and collect these.