Bottom Of The 9th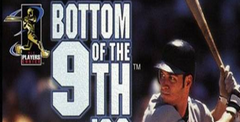 a game by Konami
Platforms: Playstation

Nintendo 64
See also: Baseball Games
An integral part of Konami's quest to build up its newly formed Konami XXL Sports series is this baseball title.
The game is loaded with features. It has all 700 Major League Baseball players, including career stats, 3-D graphics and an Al that gives players more control and options while up at bat or in the field.
The game's strong point is its depth in strategy, which forces players to think more like coaches.
For instance, you can purposely fly out or try for a grounder to advance the baserunner; it's just not swing the bat and hope for the best like in other games.
You can play a single game, an entire season or take part in a championship. There's a Training Camp Mode that will allow you to work on your pitching, fielding, batting and base running. Konami has included a Total Training Option that will help you improve your offensive and defensive Bag gaming skills. Total training is the same as playing a real game, except there is no changing after three outs.
When you practice hitting you can choose the type of pitching you want to face.
If you select a pitch your pitcher can't throw he'll shake it off. If you press the X button repeatedly during your pitcher's pitching motion, you will increase the power of his pitch. Yet, this will cause your pitcher's stamina to deteriorate rapidly.
Grab your controller and take to the field!
MANUFACTURER - Konami
DIFFICULTY - MODERATE
THEME - Sport
NUMBER OF PLAYERS - 1 or 2
Similar Games
Viewing games 1 to 4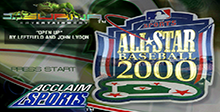 All-Star Baseball 2000
You can learn the basics of baseball in an afternoon, then spend a lifetime mastering its intricacies. All-Star Baseball 2000 isn't quite so daunting, but expect to log lots of time on the Pause screens while you figure it out. Created by Iguana, ASB 2000 has the glossy graphics and excellent sound engineering you'd expect from the team that brought you All-Star Baseball '99, NFL Quarterback Club 99 and Turok 2.
Mike Piazza's Strike Zone
DIG IN! Over 700 players! All the stadiums! All the teams and uniforms! All in 3D! Unique player editor allows you to create the ultimate athlete. All new 1998 rosters including two new expansion teams: Arizona Diamondbacks and Tampa Bay Devil Rays! Tons of hidden secrets including super-fast pitches, outrageous curve balls, incredible home runs and more! Fantasy Teams: Create your own rotisserie league. Ultra-realistic conditions affect gameplay: Grass and turf. Day and night. Rain or shine.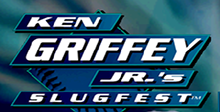 Ken Griffey, Jr.'s Slugfest
Bursting with stunning realism and high-excitement baseball action, Ken Griffey Jr.'s Slugfest drives home the winning run! Improved player animations and color commentary by Dave Niehaus - "The Voice of the Mariners" - make you feel like you're really at the game, while easy-to-use controls, updated rosters and statistics, and an optional fantasy draft make it even more fun than being there!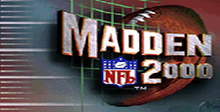 Madden NFL 2000
The speed and power of NFL football! Faster moves and breakaway speed for bigger plays. Body slams and collisions, drag-downs and de-cleaters, explosive sticking and crunching gang tackles. Ultra-fast blur moves, helmet-popping hits, more scoring, special animations, and in-your-face commentary. Multiplayer Franchise mode, authentic stadium atmosphere, Hot Routes, Madden Challenge and more!
You may be wondering: Why another Bottom of the 9th when the first one (released last spring) is still leaving a favorable taste in you mouth? Well the answer is: improvements. In this '97 edition, players can expect more stadiums and more camera angles. The 3-D batting interface has also been improved, and they have even included night games in the season roster. A simpler Season Mode is another scheduled addition. Bottom of the 9th '97 even acquired an MLBPA license. As spring is slowly creeping up on us. what better way to spend your time than playing America's favorite pastime.