Break Time: The National Pool Tour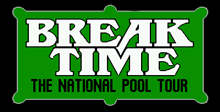 a game by FCI
Platform:

NES
See also: Pool Games
Before video games, television, and rock and roll hit the scene, there was pool to pollute the minds of America's youth. Now FCI presents double trouble in Break Time, a cool pool video game for the NES.
Call Your Shot
If you like to "shoot stick," this game's for you. The game offers a great selection of games, six in all. You get four pool Classics (9-Ball, 8-Ball, Rotation, and 14-1 Rack), a Practice Mode, and a five-city National Pool Tour, where you try to become "America's Number One Hustler." Good luck, because Break Time's CPU is a vicious pool shark. For example, in the Classics you match up against your choice of four hustlers, whose skills supposedly range from beginner to expert. Hah! Even the beginner CPU player has no problem blasting a three-cushion combo!
Using the cue stick is a breeze with the compact overhead view of the table. You line up your shot at the target ball with a cross-shaped cursor. A button press fires up a nifty side-view display of the stick, which you use to set your shot power. You can even add English to your shots with a slick, close-up cue ball display that enables you to pinpoint a contact spot.
The pool action is sweet, and the graphics and animations capture real-world table dynamics, with great action off the cushions. You can hit all the angle and even kiss the ball for precision shots.
Everybody into Pool!
You're just a hick if you can't shoot that stick! Get back to a classic, take a break with Break Time.
ProTips:
Watch your competitors as they play, and you can learn to read the angles the way they do.
Unless you need a very soft shot, always set the stick at the last power arrow.
Break Time: The National Pool Tour Downloads

Break Time: The National Pool Tour download
Get ready for some great billiards action with Breaktime The National Pool Tour for the NES. An extensive list of options make this pool game a real standout.
Pick from a variety of different games such as nine ball, eight ball, rotation and a 14-1 game. Play with a friend or play against one of four computerized pros. The skill level of the pros ranges from amateur to professional. There's also a practice mode which allows you to sharpen your technique as well as try out those handy trick shots.
If you're feeling really daring, go for the National Tour and take on the pros from around the country. If you win the pro-tour, you will have "bragging rights" as the best pool player in the country!
So what are you waiting for?
Chalk up your cue stick and get ready for Breaktime The National Pool Tour by FCI, coming soon for.