Bugs Bunny in Double Trouble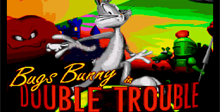 a game by Probe Software, and Probe Entertainment Ltd.
Platforms:

GenesisGameGear
See also: Disney Games, Bugs Bunny Games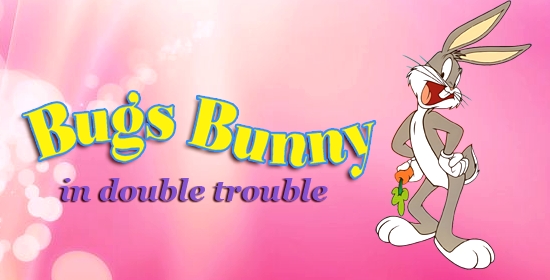 It's twice the fun. Twice the thrills. Twice the craziness. That's right, it's The Bugs Bunny Crazy Castle 2. But Bugs isn't getting the royal treatment. This "looney" new adventure on the Nintendo Game Boy has Bugs being chased by the whole Looney Tunes gang. The Tasmanian Devil, Yosemite Sam, Wile E. Coyote and other crafty characters. There are 28 huge and multi-level rooms. Giant catapults. Invisible traps. Awesome sound. More than enough to keep you and Bugs hopping. Will Bugs succeed in his crazy attempts to rescue Honey Bunny? If you're a Game Boy player, that's up to you. Their future is in your hands. So the sooner you scan the better. The Bugs Bunny Crazy Castle 2. Even better the second time around.
Similar Games
Viewing games 1 to 2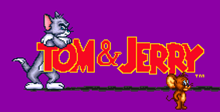 Tom and Jerry SNES
The famous cartoon cat and mouse duo, Tom & Jerry have appeared in various video games during their later years of cartoon entertainment.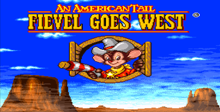 An American Tail: Fievel Goes West
In the lively animated video game, based on the popular movie, you will guide the little mouse who has to find his way through the Wild West in search for his family.
Bugs Bunny in Double Trouble Downloads

Bugs Bunny in Double Trouble download
What's up, Doc? Not much, if you're playing Bugs Bunny: Double Trouble. Though Bugs gives you eight adventures, the shoddy level designs and sluggish controls bring down the Fudd, er, Fun Factor.
ProTips:
In the hole to the far right, don't miss this switch hidden behind the post!
When playing as Bugs in the Bullfighting arena, steer him away from the hole to draw the bull away, then quickly steer back. You'll deposit the dynamite without being hit by the bull.
As the wascally wabbit, you must duck, dodge, throw, run, and jump through levels Controlw.se, Bugs where you're chased by costars like Daffy, Marvin the Martian, and Yosemite Sam. Graphically, the game is solid. Bugs and friends are well animated and complemented by bright and varied backgrounds. The sounds are good, but the music is grating, and you don't get one single voice effect.
Controlwise, Bugs is aptly named. Navigating some areas becomes frustrating, and the quick timer and poor scrolling make you the victim of many cheap attacks. Fans of Warner Bros, cartoons with some extra bucks might give Bugs a rent; otherwise, this silly rabbit's tricks aren't for discerning gamers.
Hey, Doc, Bugs might be available by now, and he scored at E3 with cool rendered 3D graphics. Each level of this action/adventure game is based on a classic Looney Tunes cartoon. You'll face old favorites like Daffy Duck, Elmer Fudd, Wile E. Coyote, and Marvin the Martian (with K-9, too).
Bugs Bunny's adventures have always been a lot of fun because Bugs Bunny is daydreaming about troubles. The game meets this condition in full. Mad bustling, chasing and silly tricks are what you will find here controlling Bugs and his friends in this game.
So, after a hard day Bugs decided to take a nap and had a dream, but not about carrots. This dream has Bugs' double trouble- his arch enemies Hunter Isamity Sam and Marvin Martian, intending to finish the poor rabbit in the land of dreams. But Bugs is a tough guy with three alive and the inborn ability for lucky escape.
The game consists of two sub levels: one is easier, the other is harder, you may choose their succession. The graphics and music are OK but the game action is sort of chaotic, what could be expected).