Burning Force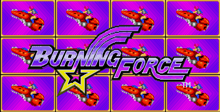 a game by Namco Ltd.
Platform:

Genesis
Manufacturer: Namco
Machine: Genesis
Andy Wu of West Lafayette, Indiana, has found a way to get ten men at the start of the game. To do so, during the title screen, press B, A, B, A, A, C, A, A, then START.
Burning Force Downloads

Burning Force download
Levels: 7
Theme: Shooter
Players: 1
Difficulty: Hard
You are a cadet in a flight school. Now you're going to be tested on the new brand of hovercraft for your final exam. Fly through levels after levels of enemy drones and huge bosses.