Caesars Palace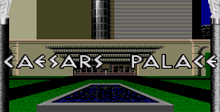 Do you have a slight case of gambling fever? Then check out Caesars Palace for the NES! Walk in with lots of cash and proceed to any of the common game tables. You can pick from any of the classic games like playing the one armed bandits, blackjack and, of course, poker. Caesars Palace looks and feels like you are really there, except it is a whole lot cheaper!
Other games by
Interplay Productions
Caesars Palace Downloads

Caesars Palace download
Caesar's Palace is a 1990 video game developed by Realtime Associates. It is named after the famous Caesars Palace on the Las Vegas Strip near Las Vegas, Nevada. In this game, you have one thousand dollars in chips and you must try to become rich. This game gives minor children an experience previously limited to people 21 years of age or older.
In Caesar's Palace you can play 5 different games: Blackjack, Slot machine, Roulette, Video poker, and the Big Six wheel.