Captain Commando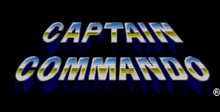 a game by Capcom
Platform:

SNES
Captain Commando is a futuristic side scrolling beat 'em up game released in 1991 and developed by Capcom. The game was first time released as a coin-operated video game, but was later on ported to other platforms due to the high request and popularity. The game features the titular superhero originally featured as a fictional spokesman used by Capcom USA in the company's console games during the late 80s.
The superhero is Captain Commando and is featured in a setting of the year 2026, where assisted by his three faithful Commando Companions, he protects the Earth and the Galaxy from a team of super-powered criminals.
The game follows the same gameplay established in the more-popular Final Fight developed by the same company. The arcade version allows up to four players in the same time, depending on the game's setting. The four commandos are Mack, Captain, Baby-Head and Ginzu. The players have to defeat each opponent on the stage while also avoiding traps and eventually fight the final boss of each level. There are a total of nine stages in Captain Commando.
The control configuration is similar to the one in Final Fight. The player controls the characters' movement with an eight-way joystick and there are also two action buttons for attacking and jumping. There are numerous combinations of attacks while both jumping and standing. Grabbing the enemy and special attacks that will drain a portion of the player's vitality are featured in this release. Running and running jump attacks can also be performed.
The player can pick up health-restoring items which can be found all over the map. However, these elements are hidden inside barrels or are within destroyable objects and have to be found. Players can also ride certain robots by dismounting their riders and jumping over the robot. Although they are powerful, the robots can sustain a lot of damage until they will be destroyed. There are three robots in the game: a flame-throwing, a punching and a freezing robot. Although in Final Fight this was not possible, the player can carry his weapons between the levels in Captain Commando.
The game was released for the Super Nintendo Entertainment System in 1995 and for PlayStation three years later. The game was made available for PlayStation 2 and Xbox in 2006.
Although the SNES version was rated on GameSpot with 7.5 by the users, the critics considered the game better and offered a total average of 8.1 out of 10. The game for arcade was rated with 8.1 by the users, while the one for scored a 7.9 out of 10.
Captain Commando Downloads

Captain Commando download