Castlevania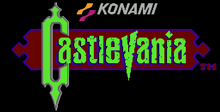 a game by Konami
Platform:

NES
See also: Castlevania Game
Introducing two new hits that are going to make your Game Boy scream with fear and excitement.
In Castlevania-The Adventure from Konami you'll journey with Simon Belmont on his third - and possibly most terrifying - quest through a maze of torture chambers and vampire crypts.
Castlevania Downloads

Castlevania download
One of Konami's hottest Nintendo Entertainment System games is reprogrammed on the GameBoy and it is hot! Only Super Mario Land comes as close to this game at reproducing arcade-style action on the GameBoy. You must guide Simon Belmont across both vertically and horizontally-scrolling playfields brimming with bad guys, Bosses, and much, much, more! A very good game that shows just how good GameBoy games can be!
The first game in the series, Castlevania introduced the vampire killer Simon Belmont of the famed House of Belmont and his nemesis, Count Dracula. It also established the series' reputation for providing killer bosses: Frankenstein, Mummy, and Grim Reaper are some of the enemies you'll face.
Castlevania features simple yet addictive gameplay. The controls are excellent and simple: One button for jumps, the other for attacks. Ah, the glorious days of 8-bit: Tinny mono sound and no multi-scrolling!