Castrol Honda Superbike Racing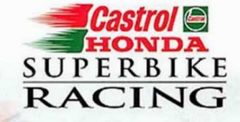 a game by Interactive Studios Ltd.
Platform: Playstation
People say:
6.5
EA seems to be on a bit of a roll with motorcycle sports games these days, but it seems a bit odd that this one hasn't come under the EA Sports umbrella. Maybe if it had it could have turned out a little better, as it's something of a disappointment. Unusually for EA. this isn't one of those all-encompassing license products. When it says "Castrol-Honda" in the title--that really is all you're getting. The Honda team thrown into a simulation of the motorcycle championship circuit--only without any "real" tracks or any other "real" bikes or riders. Unusual for a PlayStation game, CHSR is very much tackling the "simulation" end of the racing market. It's a pretty tough game to control if you turn all the driver-aids off, and in many ways it reminds me a little of the original Geoff Crammond F1 GP game on the PC in its attitude toward the sport. Unfortunately, though, the game is let down by some bad presentation. The frame-rate is intrusively slow and choppy, and there are lots of nasty little glitches throughout. Much like Moncao Grand Prix, it also suffers from its lack of a license. If you're ana! enough about the sport to want a simulation rather than an arcade game like Moto Racer 2, the lack of real bikes is a letdown. The fact that you can't ride anything except the Hondas seems a bit too restricting.
5.0
Why would EA put this out when their own Moto Racer 2 blows it away? Perhaps $$$? I think so. CHSR isn't bad, but an average frame-rate and mediocre graphics and Al makes for an altogether mundane racing experience. One licensed bike does not make a sim. If you're into real bikes you should wait for Supercross 2000, cause it'll be packed with 'em. In the meantime stick with Road Rash 3D or Moto Racer 2 for cycle fun.
3.0
The racers this month had some real highs and lows. Castroi-Honda Superbike Racing is missing three crucial elements which usually make or break a good motorcycle racer: a sense of control, speed and bone-crushing wipeouts. The graphics are below-average and the frame-rate for split-screen play has noticeable slowdown. I wanted to scrape my knee while taking a corner and hang by the seat of my pants. Alas, it didn't happen here.
4.0
I don't mind Superbike Racing's controls all that much (some of the other guys were complaining about them). My problems with the game are that A) the frame-rate is choppy as all heck, B) in general, the graphics suck, and C) it's just not fun to play. Sim-oriented or not, nobody is going to play the game if it's not fun. And since I don't care about the sim stuff anyway, I'd much, much rather play Moto Racer г or Road Rash 3D. I say pass.
Other games by
Interactive Studios Ltd.