Championship Pro Am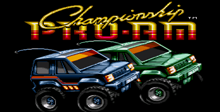 a game by Rareware
Platform:

Genesis
See also: Championship Games
You can keep your high-tech Formula One racers and your massive Indy cars. The hottest racing cars around are smaller than a shoe box! Championship Pro-Am is a breakneck Genesis version of the action-packed, NES car racing games RC Pro-Am I and II.
Like the Pros, you whip a small radio-controlled model car around 24 tracks against four computer- controlled opponents -- and you have a blast doing it!
Radio-Controlled Fun
Pro-Am's graphics are lean and mean, but they get the job done. A Car Cam follows your racer around the track, giving you a % overhead view. You can't see the entire track, which ups the challenge to your R.C. driving skills and gives a clear advantage to your CPU-controlled competitors.
ProTips:
Take the inside path through the curves.
To get ahead, bump other cars out of the way, or block their path.
Helpful on-screen info includes Laps, Speed, and an overhead view of the race track that monitors the pack as it tears up the road. Keep your eyes glued to the road, however, or this game will knock you out of the race!
Even though the car sprites and the scenery won't knock your socks off, the outrageous speed and response of your car to the controls give this game visual pizazz.
The game also supplements the auto-racing fun by mounting some simple strategic challenges. To keep on the championship path, you must soup up your car on the fly by picking up icon upgrades, such as Super Sticky Tires and Turbo Acceleration.
Championship Form
Pro-Am packs plenty of worthwhile racing entertainment into a single-player game, but this game cries out for the multi-driver challenge that unfortunately doesn't exist on the Genesis. But don't squeal about things that are out of your control, just have some radio- controlled fun with Championship Pro-Am.
Championship Pro Am Downloads

Championship Pro Am download