Circus Caper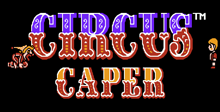 a game by Toho
Platform:

NES
Everybody loves the circus - funny clowns, brave animal tamers, and fearless acrobats all under one big-top tent. In Circus Caper, Tim and Judy can't wait to see the show when the circus comes to town. But this troupe is led by an evil ringmaster, Mr. Magic. He kidnaps Judy, and with a nasty chuckle tells Tim that he'll never see his little sister again.
You play the role of Tim as he races to outwit the sinister magician. If you don't save Judy, the circus thugs will use her as a knife-throwing target.
Circus Caper has six acts (stages) you must survive before making the rescue. Fortunately, you won't go unarmed. Each time you defeat an enemy, you get a chance to grab power items and weapons.
The yo-yo may be the best weapon to use against the clowns in the first act. It revolves around Tim and destroys enemies as they approach. If you find yourself without a weapon, try kicking and punching your way past the bad guys. To advance to the next act, you must get by the stage boss, Rolypoly the clown.
In the air above the center ring, you'll fight trapeze artists and a monkey named Leonard. If you can outfox the tightrope walker, you'll find yourself backstage in a maze filled with egg-walkers and hammer-throwers. Gamran, the white tiger, also lurks in the labyrinth. If you defeat him, he'll give you a key to the lion cage.
Soccer balls make good weapons when you advance to the animal cage. The balls roll along the contours of the tent and knock baby elephants and lions out of your way. But you'll have a tougher time getting rid of Ivanov the animal trainer and Spanky the bear.
Before your final showdown with Mr. Magic, you'll once again face all of the bosses you've already defeated in previous acts. Get by them as quickly as possible, because the master magician has some tricks up his sleeve.
The simple graphics and plot make Circus Caper a good game for younger players. The graphics may be a little too simple for older gamers, but controlling your character is a challenge that makes the game worth playing.
Circus Caper Downloads

Circus Caper download
For all you kids out there, both young and old, who've ever entertained the thought of running away to join the circus but were too chicken to do it, have we got news for you! Circus Caper allows you to totally immerse yourself in the thrill of life under the big-top and still be home in time for dinner! The fun begins when young Tim decides to visit the circus only to discover that something is very wrong. Before he can think twice, Tim suddenly finds himself trapped in a funky nightmare, face to face with evil clowns, ferocious beasts, and highi-wire maniacs. Armed with just a simple yoyo, a soccer ball, and his own wits, Tim must maneuver his way through six horrific levels of circus action, complete with go-carts, a shooting gallery, and even, gulp, Godzilla!