Code Name: Viper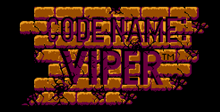 a game by Capcom
Platform:

NES
Your commander has instructed you to destroy a powerful drug cartel in South America, free innocent hostages, and bring in the murderous Drug Lord. No Sweat, Right?
Within minutes of landing in the South American Jungle, you've infiltrated the drug cartel's bases. Dodging bullets, you stumble into a hidden door to find better firearms and ammo. Hostages, too. Things are lookin' up!
You must now locate your fellow agent and collect the explosives you'll need to finish your mission - and the murderous Drug Lord.
Features:
Power Jumping: A great skill when you need to dodge bullets or mount sneak attacks.
Hidden Doors: Behind them, find hostages, additional weapons and ammunition.
Secret Communique: As you advance through the 8 levels, you'll uncover the message - and the dreaded Drug Lord.
Bombs: Handed off by a fellow agent, use these to escape to a more challenging level.
Spectacular Graphics: Sensational graphics make South America's dangers come alive!
Code Name: Viper Downloads

Code Name: Viper download