College Football's National Championship 2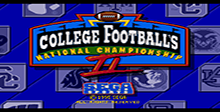 Platform:

Genesis
See also: Football Games, Championship Games, College Football Games
College Football's National Championship II goes from Heisman hopeful to bench jockey in the time it takes to play one quarter. The game can't live up to the challenge of EA Sports' College Football USA, and it's not nearly as fun or realistic.
Academically Ineligible
National Championship has only 32 teams, far from the number necessary to please fans. Sufficient plays are lacking, and the menu to reach them is confusing. The players show no visual improvement from last year's game. No new animations were added to lend any graphical realism.
The views are the same as Sega's other football titles. Your pass will seem on line, but suddenly the game will stop to zoom in and you'll watch the ball whiz by your receiver's head. Turn off the zoom mode, and you're playing a game with small sprites.
Denied in the Draft
As far as sound goes, the quarterbacks don't even say "Hike" when the ball is snapped. After each touchdown, it sounds like a gunshot goes off in the back, and the crowd noise sounds more like static.
Notify the next of kin. Sega's hopes of a national championship are dead on arrival.
ProTips:
On passing plays, if nobody is open and you have a lane to run in. take it and try for the first down yourself.
When in heavy traffic, utilize the spin move to break tackles and get into the open field.
On passing downs, become a safety and anticipate where the ball will be thrown. Then step in front of the receiver for the interception.
College Football's National Championship 2 Downloads

College Football's National Championship 2 download