Commando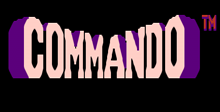 a game by Capcom
Platform:

NES
See also: Commando Games
Manufacturer: Capcom
Machine: NES
Frequent Eggs contributor Peter Siamidis of Montreal, Quebec, Canada, has given a method for uncovering all hidden ladders. From the title screen, use a second controller to push L three times, B twice, A four times, R then START. Another $10 to you, Peter.
Commando Downloads

Commando download