Corporation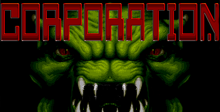 a game by Sega
Platform:

Genesis
See also: Monsters Games
Get ready to arm yourself with some intense firepower because it's your job to take on the whole corporation. Polygon graphics put you in the game! Watch out for the infrared guns.
Corporation Downloads

Corporation download
Have you got used to fighting with monsters? Are they afraid you? Try this game then…
The story goes like this... During the genetic experiments a monster was created who went off any control. What is even worse, the monster himself began to spawn similar creatures. Your heroine is initially armed only with a pistol with the aiming working automatically as soon as the enemy comes in sight...
The Game is made in the style of 3D-shooter. However quality of game leaves a lot for improving, inexpressive graphics, inconvenient controls, weak sound track.