Dahna Megami Tanjou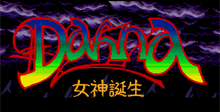 a game by IGS Corp.
Platform:

Genesis
Dahna offers a totally unique gaming experience to Mega Drive enthusiasts. Choose between three effective weapons: a morningstar whip, iron spear, as well as your trusty sword. Take on a host of evil creatures as you progress through the well animated and challenging levels. Highly detailed graphics and great game play complement this hack and slash tour-de-force.
Outstanding graphics and displays are just a small part of what this incredible cartridge uses to compliment solid game play!
True to the form of your typical side-scrolling action/conquest title, Dahna uses the tried and true formula of intense battles leading up to the confrontation with a much larger, stronger and complex Boss!
Dahna Megami Tanjou Downloads

Dahna Megami Tanjou download