Dangerous Seed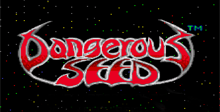 a game by Namco Ltd.
Platform:

Genesis
Throughout 12 long levels you will have to navigate a small plane, which is about to crash after the slightest shot or collision. Again crowds of enemies on your way, again sessions of dexterous maneuvering on the screen just only to destroy the dangerous alien seed.
Well, it a beaten idea plus the graphics leaves a lot to be desired so the adrenaline won't be rushing in your blood.
Dangerous Seed Downloads

Dangerous Seed download