Deadly Moves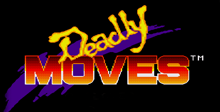 a game by Kaneko
Platform:

Genesis
See also: Deadly Games
Deadly Moves Downloads

Deadly Moves download
This game not bad, cool fighting, I like this!
Judging from the name, this game is dedicated to martial arts. You will have to face ten masters and to prove the right to posses the champion title. Every opponent has their own original techniques and weapon, but, unfortunately, the quantity of participants is strictly limited to 8 plus the first person mode includes only one fighter. The graphics and music are medium quality. So it's a just a common fighting game. Quite good the schedule and animation, but figures of fighters are small.