Dino Dini's Soccer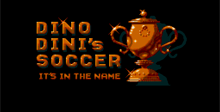 a game by Virgin
Platform:

Genesis
See also: Soccer Games
Dino Dini's Soccer is a conversion of Goal! game made for Amiga. Dino Dini's Soccer had all the features of the Amiga version and it was graphically superior to it. The game features an innovative 4-way gameplay.
This is a football emulator finally causing disappointment because of boredom and absence of spirit. There seems to be enough settings and teams but the graphics eliminates every single advantage of the game. Players are rushing on the field with no sense, the judge, who will not calm down without giving out 10 red cars, the goalkeeper who won't catch the ball...
Dino Dini's Soccer Downloads

Dino Dini's Soccer download