Dragon Ball Z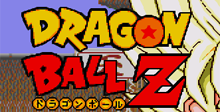 The rating of this game has gone far off Japan and is continuing its victorious march across Europe and America. One and two player modes, 11 greatest heroes (Vegita, Piccolo and San Goku), numerous levels, fights in the air and on the ground…all these you will see!!! Plus you may enjoy very efficient combinations of enemy's annihilation.
Dragon Ball Z Downloads

Dragon Ball Z download
Manufacturer: Bandai
Machine: Super Famicom
Theme: Fighting
Release: December 1993
The rough and tumble warriors of the stupendous Dragon Ball Z anime series are back for another round of hyper-charged battle action. Set in the same head-to-head fighting style of the original, DBZ2 adds several new characters, while the regular crews get new powers, including young Gohan who is easily the toughest of the lot. The neat thing about this game, like before, is that the screen splits when the two players go away from each other. If you're a fan of the anime series, watch for this one.
Dragon Ball Z is nothing new to the Japanese. The Dragon Ball game series has spawned various genres like strategy, role-playing, and now a fighting game. What looks to be a mindless one-on-one fighting game is actually filled with tons of techniques, cool characters, and many game options like a story mode, a competition mode, and of course, a two-player game.
For those who simply must own every fighting game out there, Dragon Ball Z makes a terrific addition to the library.
Manufacturer: BANDAI OF JAPAN