Dragon Slayer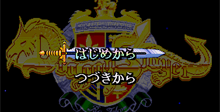 a game by Falcom
Platform:

Genesis
See also: Dragon Games
Based upon an old Japanese Shinto story, Japanese gods round up seven people to fight an invasion of devils! This involving RPG pits your seven warriors against a horde of evil demons!
Dragon Slayer Downloads

Dragon Slayer download
This game is in japanese so we wont understand the story at all!!
This is a Japanese RPG, not the best choice if you have decided to play an RPG. In any RPG the main thing is history. But here it is hard to understand the history as everything is written in Japanese.
The Fights are like those in Phantasy Star, providing lots of menu items but I could launch only Attack. I faced the same monster for a lot of times and I got tired of beating him... The second species came up much, much later. The characters have a big number of parameters, but, traditionally, you cannot influence on them. The graphics could have been better as well. Well it is possible to play the game but… without any passion.