F-117 Stealth Operation Night Storm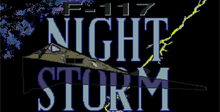 a game by Electronic Arts
Platform:

Genesis
See also: F-117 Games
The "invisible" air craft F117 is one of the most perfect and effective fighting machines among the weapons of the US Air Forces .The basic application of F-117 is airborne dot hitting the most protected air defense objects of the opponent. The plane was successfully tested in a number of military campaigns of the USA and NATO, including Persian Gulf, Panama, Korea, Grenada, and Yugoslavia. The game features all the details, characteristic for simulators: training, the choice of the weapon, etc.
The game is rather difficult. It has various modes for viewing the fighting machine from different angles, the opportunity of changing the views of the target, and also the opportunity to equip the plane with different weapons.
Other games by
Electronic Arts
F-117 Stealth Operation Night Storm Downloads

F-117 Stealth Operation Night Storm download