F-Zero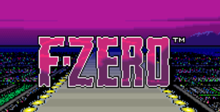 a game by Nintendo
Platform:

SNES
See also: Racing Games, F-Zero Games
F-Zero is a series of popular racing video games created by Nintendo EAD with multiple intallments developed by other companies. The first game was released in 1990 for the Super Nintendo Entertainment System (SNES). The series is well-known for high-speed racing, unique characters and settings, hard gameplay, great and original music and pushing the limits of technology to make of F-Zero one of the fasters racing games ever. As later stated, the game was inspired by Daytona USA and the Wipeout series.
The first game released used Nintendo's Mode 7 Scrolling, which could simulate 3D environments when combined with scaling and positioning of the layer on a scanline-by-scanline basis. These techniques were revolutionary in 1990 and this propelled the game as being of the most innovative of the year. Back then console games were restricted to static/flat backgrounds and 2D objects, so 3D was indeed something new.
One year later the game was released for the Super Farmicom's expansion, Satellaview. It was followed up by BS F-Zero Grand Prix 2, which featured new courses. Though Zero Racers (G-Zero) was planned as well for Virtual Boy, it was cancelled before the release.
The series made the transition to 3D with F-Zero X on the Nintendo 64, after seven years of releasing games. There were 26 new vehicles, including even some from the original F-Zero. The Grand Prix mode was still available, while a "death race" mode was introduced as well. Unfortunately because of Nintendo 64's hardware limitations the game ran at 60 frames per second with 30 cars on screen at the same time.
All the F-Zero games requires the player to beat the opponents to the finish line, but after avoiding different kinds of obstacles (land mines and slip zones). The game requires a memorization of the tracks and quick reflexes, because it's a very fast-paced series. Whenever a lap was completed in F-Zero and F-Zero – Maximum Velocity, the player got a speed boost. After the release of F-Zero X, player may execute speed boosts if they have finished a lap, but this time it was in exchange of losing energy, so the player had to recharge with the strips around the courses to refill the energy bar, otherwise he would have exploded. Drivers were also allowed to attack each other with their cars' bodies.
The F-Zero games were popular releases and scored good feedbacks on the internet. F-Zero GX is still rated as the best high-speed racer game ever made by an editor from Pro-G. Shigeru Miyamoto, a well-known Japanese video game producer and designer said the expectations from the games were high, but the games failed to deliver unfortunately, stating Nintendo was disappointed with the collaborations with outside development teams.
F-Zero Downloads

F-Zero download
Machine: SNES;
Manufacturer: Nintendo of America;
Buyer's Guide: Smooth Mode 7 track rotation and intense racing action make F-Zero - the first SNES racing title - the best, barely edging out Super Mario Kart.
Driver's Ed: Jump out in front at the starting line and quickly cut off a rival car. When the other car bumps into you, it gives you a burst of speed.
Driving games have just entered a whole new dimension. F-Zero is the first driving game available for the Super NES and so far it is the most incredible driving game for any home system. The wizards at Nintendo have cooked up the most realistic driving contest ever. The use of Mode 7 is clearly what makes F-Zero the best. Each hovercraft has its own handling characteristics and acceleration curve. Prepare to compete on seven futuristic courses for some really intense high speed action. Race against the clock and try to beat your best time or go against the competition. Totally addictive and totally awesome driving action.
F-Zero features high-tech hovercraft racing action that takes place on seven tracks, each with different configurations and different locales (from the seaside to the desert). Sci-fi graphics, complete with magnetic bars and explosive mines, lend a dizzyingly real perspective to the racing. Toss in incredible 360 degree rotation sequences and you'll be positively queasy.
Select your own car (each has slightly different power and speed) and one of three difficulty levels. Then take a few practice spins or go straight to the Grand Prix Mode. In the Grand Prix you compete against other hovercraft in multiple lap races. To stay in the running for the Grand Prix Championship and advance to the next track you must place at least third overall in each race.
Ramps send you soaring, but rough areas of the track and richocheting off the side-bumpers slows you down. Each track also features a power-up zone that links you to a flying supply vehicle.
ProTip: Save your Nitro Cans until the end of the last lap and then use them at the last moment to rocket past your opponents.
F-Zero shows what the SNES can really do, with futuristic racing action and head-spinning 3-D graphics. Racers, start your hovercrafts!
Call this "Rad Racer '91" -- and then forget the comparison. This outtasight futuristic hovercraft race features four different vehicles, three skill levels, and a multitude of tracks to choose from. You've got to win each race to continue to the next. This game has some great background scrolling, and the explosions when a car crashes are spectacular.
F-Zero was developed and published by Nintendo for the Super Nintendo Entertainment System. It is a futuristic racing video game. This is the inaugural game of the F-Zero series of video games and was first released in Japan on November 21, 1990 and later in North America on August 13, 1991 and in Europe on June 4, 1992 as one of the two debut titles for the Super NES, but in the U.S. this launch title was accompanied by more games.
F-Zero is considered to be the game that set a standard for the racing genre. In late 2006, F-Zero became available for the Virtual Console service on the Wii.
This is a great arcade style racer, You'll find alot of fun can be had on a two player game and i would say it is just as fun as Mario cart...