Family Dog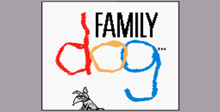 a game by Imagineering Inc.
Platform:

SNES
It's a dog's life -- day after day, just gettin' by. Wishing that you could jump right up and bite the hand that teases you? In Family Dog, you play an adorable mutt who's terrorized by his young master, Billy. You're not out to save the world -- just survive. But the crackpot kid and a host of household nasties make life awfully ruff in this comical, side-scrolling, action game from T.H.Q.
Give that Dog a Bone
You have to search the house for puppy-style power-ups, including Dog Biscuits for barking power and Bones for extra life. As you go, bark away the enemies and obstacles to rack up points. Make it through every room in the house, and lucky you, the family goes on vacation, taking their awful son with them. Unfortunately, they send you to a nasty kennel, where you're in for the ultimate fight for survival.
ProTip: Hidden shelves in the Living Room hold life Bones and extra Barks. To find them, jump as high as you can on the first couch, then leap right toward the flying book.
You'll have a ball watching this high-jumping puppy. His comical moves and facial expressions will keep you in stitches. Unfortunately, there just aren't enough of the entertaining animations to keep gamers wagging their tails.
What can you do when your bark is truly worse than your bite? You bark a lot, and it's no feeble bow-wow-wow for the hero of this show. This puppy lets out a resounding, "Rowf!" Throughout, the music and sound fit well with the humorous (though sparse) animation and graphics.
The controls are simple, but they can be imprecise when jumping onto small objects. Though some levels are too difficult for a beginner to tackle, experienced gamers will have no problem.
More! More!
Family Dog's clever graphics and sound make this game a comical romp. Though a larger repertoire of animation, graphics, and sound effects would have improved the game, this dog's a bone-a-fido hero.
In the bonus round don't run in the direction that Billy throws the ball. Ti catch it, run the opposite way through the house.
When the dog starts sniffing the ground, dig into the carpet to find a treat.
Other games by
Imagineering Inc.
Family Dog Downloads

Family Dog download