FIFA Soccer 95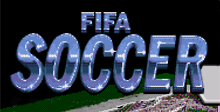 a game by Electronic Arts
Platform:

Genesis
See also: Soccer Games, FIFA Games
EA Sports believes that it produces the top sports sims on the market. When it comes to soccer, that's no idle boast -- it's a fact. FIFA International Soccer '95 for the Genesis is the best soccer game yet. Period.
FIFA Shoots...
FIFA '95 is a slightly upgraded version of the original FIFA game that blew away the competition last year. It has all the tools to be a great game: cool graphics, fantastic controls, good sound, and addictive game play.
FIFA offers several different game-play modes. Choose from eight domestic tournaments, a World Cup-style tourney, a Playoff, or kick around with exhibitions. The Domestic Tournament option, a feature not found in the original game, is one of the best ways to play. It brings together club teams from eight different countries, including the U.S., Brazil, and Germany.
Another cool way to play is shooting for the World Championship with the World Tournament, which uses divisional groupings based on the performances of the real-life teams in last summer's World Cup competition. Each of the more than 100 teams in FIFA '95 is rated in nine categories, ranging from team speed to tackling abilities. The U.S. squad, thanks to its strong World Cup showing, is now one of the stronger teams.
ProTips:
With the Fouls option turned off, always press Button A for a sliding tackle when your opponent gets past you with the ball. You almost always steal the ball or knock him down.
Have your best shooter take most of the shots; he'll score more often than anyone else.
You can take the ball away from your opponent by pressing Button B and then Button C to flatten him. But watch out for the zebras -- they'll nail you if the Foul option is turned on.
...FIFA Scores!
The graphics haven't changed much from the original version -- thank goodness EA Sports didn't mess up a good thing. You still watch the action from that effective angled-overhead view of the field. The sprites, however, may seem a little smaller than they were last year, but their quick, lifelike movements more than compensate for their reduced size.
Unfortunately, the sound in FIFA '95 has been weakened. There isn't nearly as much chanting and singing as there was on the original, which diminishes one of FIFA's greatest strengths.
The controls remain almost the same (which means they're excellent), except for one feature: There's no more one-touch passing. The days of one long down- field pass followed by a shot on goal are gone, which actually makes the game play much more realistic.
If you're up by a goal late in the game, change your formation to Sweeper and your strategy to All-Out Defense.
World Cup Winner
Chalk up another victory for EA Sports. FIFA Soccer '95 has set the standard for soccer games for the rest of the year.
When the ball is in the air, press Button A to head it back down to the ground.
If you're trailing in the second half, change your formation to 4-2-4 and your strategy to All-Out Attack.
Come at your opponent's keeper from a 45-degree angle and aim for the back post. This shot is almost impossible to block.
Other games by
Electronic Arts
FIFA Soccer 95 Downloads

FIFA Soccer 95 download
Manufacturer: Electronic Arts
Machine: Genesis
Pretty much the same game as in the last version, but with a few small improvements that will keep this game repeating as the world champion.
Manufacturer: Electronic Arts
Machine: Genesis
Theme: Sports
Release: 1993
People say:
8
EA and sports, go figure...This title has got to be one of the best soccer games that I have ever played! The animation is very good, and the perspective does not hinder the game at all like most other versions do. Tons of options make for a diversity each time you play! This will be a definite treat for soccer fans all over. The only reason that this' doesn't get a 9 is, well, honestly I just don't like soccer that much.
9
I don't really like sports games at all, especially soccer - until FIFA Soccer came along. It offers everything someone like me wants in a sports game. It has perfect control, a large variety of teams and moves, plus most importantly - it's just play fun! It's great hearing the crowd chant during those incredible plays. Do yourself a favor and pick up the adapter because this game is wild with four players!
9
This cart will be to soccer what John Madden is to football. EA has finally outdone themselves by churning consider out what I consider the best soccer title ever. Everything from the offensive and defensive plays to the cheers and jeers of the crowds has been included. The game play is great and there are tons of play plus even discriminating soccer fans will be pleased. Now let's see how many revisions they'll do of this one.
7
It's soccer. It's by EA. What else do you need to know? I suppose one could say EA does it again with another excellent sports game, but why bother(oops, I just did!)? There are plenty of options to choose from, plus the scrolling and motion is fluid and keeps the action going. Sports fans will surely want to check this one out. But how about a Mutant League game called "Mutant League Sock Her?
This is the first football emulator of FIFA Soccer series from Electronic Arts. There are football leagues of Brazil, France, England, the Netherlands, the USA, Germany, Italy and Spain. This is a fine football simulator with the superb graphics, sound effects and animation, the convenient controls and the opportunity of the team game for players.