FIFA Soccer 97 Gold Edition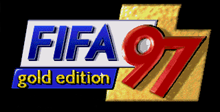 a game by Electronic Arts, and XYZ Productions
Platform:

Genesis
See also: Soccer Games, FIFA Games
FIFA Gold plays great, looks great, and will blow you away—if you've never played a FIFA game before. If you have, it's much like the FIFAs you've always played, right down to the scratchy Genesis sounds.
The gameplay and controls are as awesome as ever. The most significant new feature of Gold is an indoor mode. In addition to playing with thousands of international players outdoors, you now can bang balls off the boards.
The other noticeable change is in the graphics. Although the FIFA players seem to be shrinking slightly over the years, they now move more fluidly than ever.
FIFA newcomers—buy now. This game sets a new Gold standard. FIFA regulars—rent first to see if the changes warrant a purchase.
ProTips:
Unless you've mastered the game, the CPU is better in the net.
If you have the ball near your goal with defenders on you, press Button C to clear it.
Other games by
Electronic Arts
FIFA Soccer 97 Gold Edition Downloads

FIFA Soccer 97 Gold Edition download
World-class soccer, as only the folks at EA Sports can bring you. It's hallmark isometric playing field sets it apart from most of the competition, as does it's range of options.
The 1997 release of the yearly returning FIFA football (soccer for the US people) game. The 1997 version includes comentary from John Motson, summaries from Andy Gray and the whole game is presented by Des Lynman. All player moves are captured moves from David Ginola using the MotionBlending technology.