Final Fantasy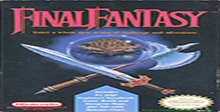 Platform:

NES
See also: RPGs, Final Fantasy Series
The legend continues with Final Fantasy Saga! Cecil has found himself on another mission to seek and destroy an evil armada attacking Cecil's homeland. He must visit various towns and recruit soldiers to aid him in his mission. Use the gold pieces collected from fallen enemies to power up your party with new swords, armor, and shields. You will journey mostly by land but later on you receive a fighting ship from an old friend. If you own the first two of the series, this third one is definitely worth looking into!
Final Fantasy Downloads

Final Fantasy download
The first of the Final Fantasy games. This game is one of the best NES games there was, even better then Zelda! The story line rules and graphics are great for its time! A MUST DOWNLOAD!