Fire Mustang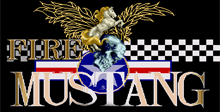 Platform:

Genesis
See also: Fire Games
Step back in history. Back to the days of old Mustang P-41's and other vintage WW2 aircraft. This is the setting for Taito's new side view, side-scrolling shooter. Go up against squadrons of enemy planes who may not have the most awesome firepower, but do make up for it in sheer numbers! Good seat-of-the-pants flying is definitely needed.
Fire Mustang Downloads

Fire Mustang download
This is a typical average arcade, peculiar only is its side view which is quite rare for similar games. You fly in a twin-engine plane of an uncertain type and pour down the fire on every counter plane, helicopter or tank on your way. The more you pour, the faster you will win.