Flicky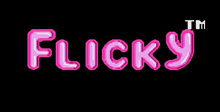 a game by Sega
Platform:

Genesis
Type: Action
Available: April 1991
Levels: 99
Difficulty:Easy
Oh, no! Flicky has lost her babies and needs your help! Take flight into Sega's newest addition to it's family of Maze-Chases. Flicky's chicks are strewn throughout 99 increasingly difficult levels. Flicky, however, is not the only one who wants her chicks. Cats and lizards are trying to get their paws and claws on the chicks as well! Flicky is not totally defenseless since she can throw objects at the enemies too.
People say:
5
Here is a low cost game for the Genesis aimed purely at the younger players. The theme is cute, as are the characters, but 99 levels is a little much. Since the music and enemies don't change, the game becomes tiresome quickly. The bonus stages do break the monotony a bit.
6
Another game from Sega that is both economical and fun to play. Not for everybody but once you try it you probably will want to keep on playing. It does go overboard with 99 levels but the younger players will probably be the first to get through all of them. Not bad, but not great.
5
Based on the old and little seen coin-op Flicky is obviously not the most complex of games. It does however have its addicting qualifies and with 99 levels at a 1Meg prise is not too bad. Directed toward younger players Flicky is an average game for everyone in the family.
5
Flicky is a highly entertaining game for kids, but not much else. This theme was worn out after City Connection, and doesn't come alive here. The Characters are few, the music is repetitive, and the concept is old. The best part of Flicky is having 99 levels to complete.
Flicky Downloads

Flicky download
Theme: Action
Players: 1
Difficulty: Average
A marauding band of cats have found a huge nesting of little tiny baby birds and are planing a giant feast. Take the role of the blue bird with a big heart and try to get the chicks to the exit.