Football Fury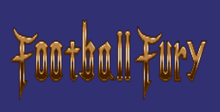 a game by American Sammy
Platform:

SNES
See also: Football Games
Younger football fans, and anybody overwhelmed by complex video football games, will welcome American Sammy's Football Fury. Touted as "user-friendly football", this SNES game simplifies the play options and the control to keep the emphasis on the action. With teams like the Buffalo Bighorns and Miami Sharks competing for the Ultra Bowl, it's not NFL action, unfortunately, but VFL (Video Football League) action instead.
ProTip: When returning kicks, keep your runner behind his blockers until he can break free.
The game mainly relies on a side-scrolling %-overhead view, plus some Mode 7 zooming rotation. The sprites, which are ill-defined and cartoony, tend to be too sluggish for serious gamers, but younger players might not mind. As for realistic sounds, such as a crunching hit, you'll find that they're kept to a minimum.
Rookies will be entertained by Football Fury, but they'll eventually want to jump to the real NFL with Madden or Montana. Till then, this is a nice game to train on.
Other games by
American Sammy
Football Fury Downloads

Football Fury download
Here's a football game with a difference: it's easy to learn!
If you're tired of wading through long, complicated manuals and frustrated by complex controls, how about a game you can just sit down and play? FOOTBALL FURY puts you right into the action, with all the great strategy and play options of the real thing. Whether you're a rookie or a seasoned pro, if you like your football fast and furious... FOOTBALL FURY is your game!
Attention all football fans: if you like a diverse selection of teams, along with plenty of moves, you'll love this action-packed clash of sportmanship. Where else can you bash someone into the ground and not even care? Great animated sequences bring each play alive, no matter what you do. Touchdowns, with great scaling and rotation, bring the sport alive in Football Fury.