Gunship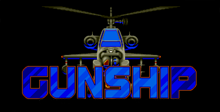 a game by Microprose
Platform:

Genesis
See also: Helicopter Games
Take the joystick of the AH-64 Apache military attack helicopter in this upgraded version of the classic flight simulator.
Gunship features the AH-64 Apache helicopter. Your objective is to pilot the chopper through various terrains searching for enemies and completing mission objectives.
Create a pilot, select a duty assignment, and receive your briefing. Before taking off you have the option of changing the helicopter's armaments. After taking off read the map and head for your primary objective. Enemies are spread throughout every mission and come in many forms. Make sure to choose the proper weapons to use against infantry, helicopters, and tanks.
Gunship includes hundreds of missions and pilot promotions. Advance through the ranks and receive a variety of medals.
Gunship Downloads

Gunship download
I really can not see the point of this game, It tries to be a arcade/simulation game and fails at being one nor the other, The Helicopter is not in you total control you can only move left right up and down in the slightest of movements, I certainly would not recommend this, You'll have more fun with a dog turd on a stick and a bunch of girls nearby!....