Home Alone 2 - Lost In New York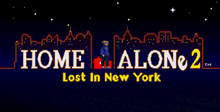 Manufacturer: Sega
# of players: 1
Difficulty: Moderate
Available: December 1993
Number of Levels: 4
Theme: Action
Home Alone 2: Lost in New York, is a game fashioned after the ever popular Home Alone movies. You are Kevin lost again in the dangerous streets of New York while your family is away in Florida. To make things worse for our hapless hero, the two bad guys from the first game are back and they are not too thrilled to see you! Try to make your way safely across the city to the big Christmas tree.
Learn all of Kevin's moves like sliding, running, jumping and pushing. Weapons are to be collected in three pieces and assembled for use. You will also find food to keep you healthy. Be careful and remember everyone is the enemy.
Home Alone 2 - Lost In New York Downloads

Home Alone 2 - Lost In New York download
The one-boy SWAT team gets Lost in New York this Christmas, with a game based on last year's movie. Feisty Kevin McCallister fends off the infamous "Wet Bandits" through eight levels of Big Apple action and adventure. The Bandits get stung by BBs, frozen, slimed, and buried by bubbles. Kevin races from La Guardia airport, through snarls of city traffic, to Duncan's Toy Chest, through a Brownstone, and more in this one-player game.
Released in 1992, this side scroller video game was published by THQ, Inc. and developed by Imagineering Inc.
It is slightly based on the film of the same name. The main character, Kevin McAllister has come to New York City without his parents. However he doesn't seem to be bewildered, and confidently checks himself into a hotel and just starts having great fun. But after a while the hotel finally discovers he has been using stolen credit cards and begins to follow him around! What is more, those two Wet Bandits, Harry and Marv, Kevin defeated once, are in New York and are longing for revenge. In the game the player, controlling Kevin, will have to jump over obstacles and enemies while gathering items. These items include health bonuses and various weapons. If Kevin loses all of his health or gets "caught", he will lose life as well. There are three Kevin's lives to start the game with.