Hydro Thunder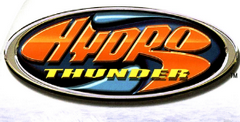 a game by Eurocom
Platforms: Dreamcast

Nintendo 64
See also: Racing Games
Wave Race 64, despite being an almost three-year-old veteran, is still absolutely tremendous - on all counts. And it's a measure of the N64's - and Nintendo's - brilliance that the water effects have not been bettered on any system anywhere since.
So, what can Hydro Thunder offer that Wave Race hasn't already? It's another water-based racer, but this time the emphasis is pretty much on straight racing thrills, rather than battling against the ebb and flow of the tide, which Nintendo's classic positively encouraged.
Even so, the physics on the boats themselves are pretty striking; scything through the water and generally reacting as they would in real life, despite the absence of waves. Although there are no weapons, turbo power-ups are available, and there's an emphasis on shortcuts and huge jumps. Coming from developers Eurocom - the folks behind the technically superb Duke Nukem: Zero Hour - Hydro Thunder certainly looks the part, pin-sharp and colourful. And it's incredibly smooth, too. with nary a shudder of frame rates, which bodes well for the two-player mode. Question is, can it come up to the dizzy heights of the superb Wave Race?
We'll find out for sure in the next couple of months...
Similar Games
Viewing games 1 to 4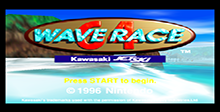 Wave Race 64
Wave Race 64 is sure to provide some of the most exciting racing you've ever experienced. Feel the pounding and crashing of the waves as you accelerate into straight-aways, whip around the marker buoys and go airborne on the jump ramps. Don't race alone - challenge a friend! Take control in three different modes of play - Championship, Time Trials and Stunt Mode. Nine challenging courses set in exotic locales - race conditions change and the wave action responds to the way both you and your opponents race!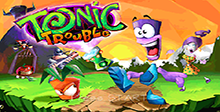 Tonic Trouble
Trouble up to your bow tie! Ed's toxic goo turned the world crazy - tomatoes are rioting, carrots are biting back, and Grogh the Hellish wants Ed's head! Help Ed right the wrongs in 12 wildly animated worlds -insane puzzles, killer vegetables, dangerous dungeons, and more. All caused by Ed. It's the biggest trouble anyone has ever gotten into, or out of! A strange brew of action adventure and mind-bending puzzles!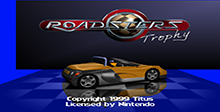 Roadsters
Buckle up and brace yourself as you take the wheel of a tricked-out, asphalt-kicking, supercharged Roadster. Hurtle around one of ten different adrenaline-pumping tracks at 200 MPH. Feel the wind tearing your hair from its roots. Knock elbows with the competition. You're in a rocket ship without a roof. You're Roadster racing, baby! Win races. Win cash. Turn your Roadster into a monster, 'cause you'll need all the help you can get. Out here the speeds are faster, the turns are tighter and if you blink, you're roadkill!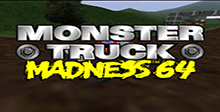 Monster Truck Madness 64
Reach out and crush someone! The world's favorite monster truck game with high-octane off-road racing and bone-crushing battle modes! Mega multi-player mania. 19 trucks to control, including BIGFOOT, Grave Digger, and the WCW / nWo WrestleTrucks! Five battle games and two racing modes for 1 to 4 players. Ten treacherous tracks to tame. Play king of the hill in the Summit Rumble. Extreme off-road racing allows you to find your own shortcuts! Plenty of power-ups to give you an edge over the competition!
Overview
If I had to pick one type of game that I would most like to play, my answer would have to be racing. Not only that, but I really like racing games with a twist. The standard road racers are fun but I really enjoy something that takes the race off the pavement. Hydro Thunder is Midway's take on thunder boats -- and what a fun ride it is. If you have ever wanted to drive a hydro, this is the game for you. Okay, maybe it is not realistic at all but it is still a blast to fly over cliffs in high-resolution glory.
As I mentioned above, Hydro Thunder is a boat racing game that is a port of the arcade game of the same name. There are 13 boats that you can unlock, 14 very different tracks, and turbo power-ups galore. This game is pure arcade racing fun. Climb into the cockpit of your thunder boat and drop the hammer on some serious water racing action.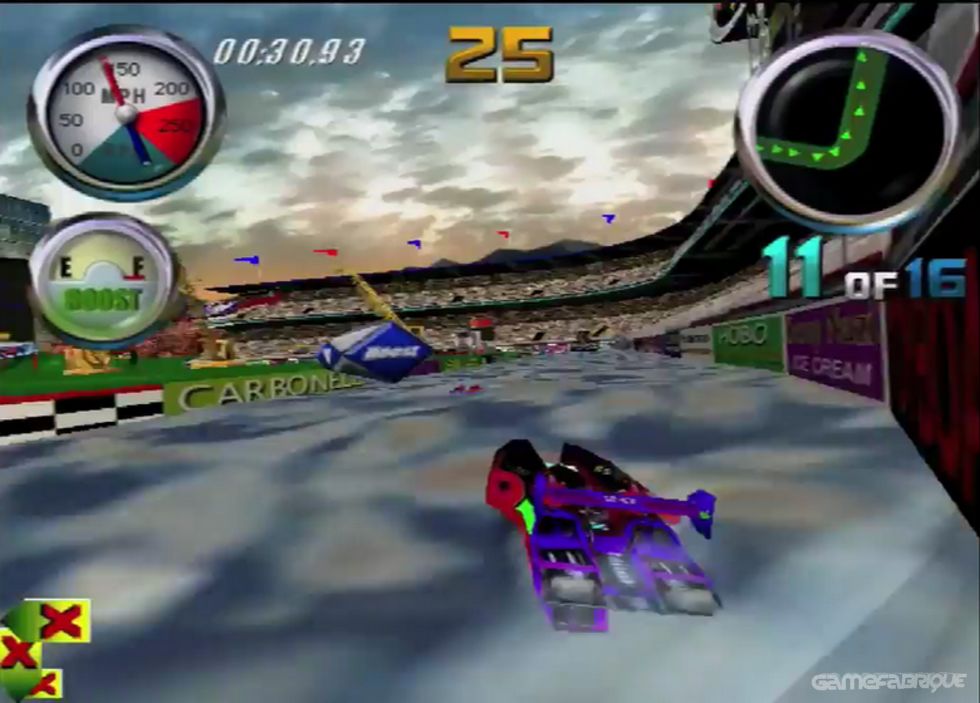 Gameplay
If you are looking for a challenging racing game, look no further. This game has to be one of the most difficult racers I have played in a long time. It is not quite difficult to the point of frustration but it is difficult to the point of wanting to play it again and again to just win one more race. This is the sign of a good racing game in my eyes. You will not sit down and finish this game in one or two gaming sessions. Hell, I would memorize a track and race it 15-20 times more before I would beat it. The game is broken out into four different racing categories and you must start at the first (easy) to unlock the next category (medium). There are three easy tracks and three easy boats that you can select. If you finish in the top three on all three of the tracks, you unlock three medium tracks and three medium boats. You must finish in the top two on all three of these tracks to unlock the hard tracks. If you finish in first place on all of the hard tracks, you will open up bonus tracks and boats. The game starts getting difficult on the medium tracks. I spent hours trying to get past them and I think that I am pretty good at racing games.
There are two real stars of this game. The first star would have to be the boats and the different designs. All of the boats look, feel, and handle differently. Some look like traditional hydros while others look nothing like a hydro but are cool all the same. Each boat has different speeds and handling and it is very important to select the correct boat -- it makes all the difference in the world.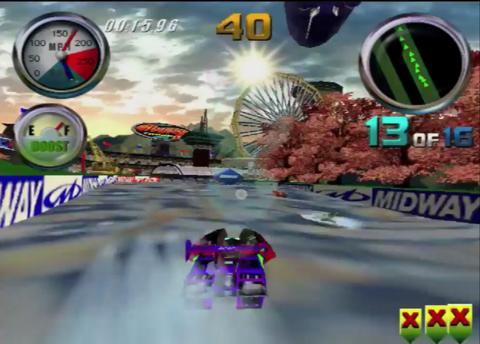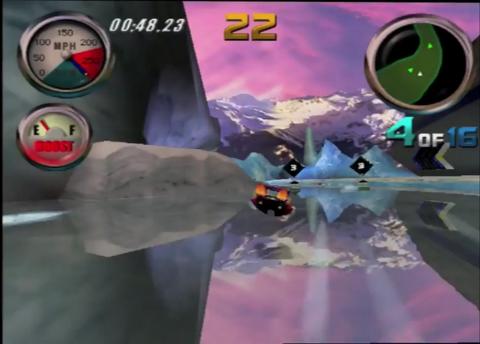 The second star of the game is the tracks. The tracks are so different and varied from one another that you will almost feel like it is a totally different game on each track. You know how lots of racing games have tracks that look and feel very similar? That is definitely not the case here. There are tons of shortcuts, secrets, and special hidden areas scattered around in this game. They did a great job of placing jump ramps and huge drop-offs in just the right places. The first time you hit one of the 300 foot drops, you will be amazed at how cool it is. I don't know how else to describe the tracks other than as very innovative and exciting. Your first time through a track, you will have no idea what to expect. Oh yeah, I almost forgot. There are some tracks where you are actually sliding down ramps out of water. Trust me, it is cool.
Just racing your cool boat around a cool track is not going to put you in the winner's circle though. If that is all you do, you never win a single race. See, scattered across the tracks are different turbo boosts. There is the blue boost, which adds about four seconds of turbo boost and a red one that adds about six seconds of boost. There are even hidden nine-second boosts on some levels. Getting these boost icons is essential for any success you will have. Missing one or two of these in crucial spots will be the difference between winning and losing the race. One other neat thing about the boosts is that when you are using them, you can ram into the other racers and send them flying out of your way. I don't know what I did or how I did it but I managed to hit something that gave me an unlimited supply of boost across an entire track. I am not sure if it was a freak occurrence or if I hit something hidden. All I know is that I needed every bit of it to win the freakin' race.
My only real complaint about the game is the loading speeds and the interface. It is pretty tricky to maneuver through the screens to get you where you need to go. Plus, the most frustrating thing is that there is no way to restart a race quickly. Since each track takes tons of practice, you will have to keep racing on them over and over. The problem is that after every race it takes you back to the beginning of the game and you have to wade through all of the other crap to start the race again. A simple "try again" selection after each race would have done the trick and it is sorely needed.
Graphics
This will be another of the games that you pull out to show off the coolness of the Dreamcast. I have never seen a game that has such realistic looking water effects. Everything from the regular water you race on to the waterfalls to the crystal clear nearly transparent water -- it all looks great. The boats also look fantastic with super details but probably the coolest graphical touch of the whole game is when you lay on the boost button and the flames come shooting out of the turbo booster. Unbelievable.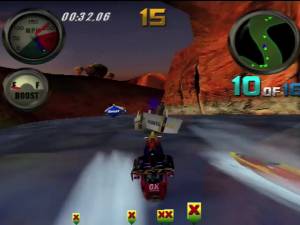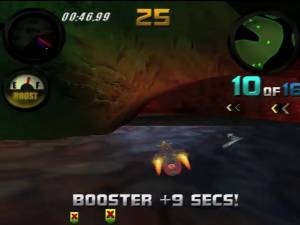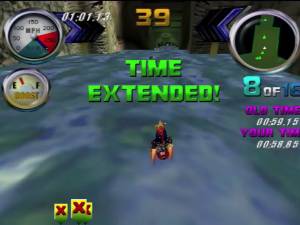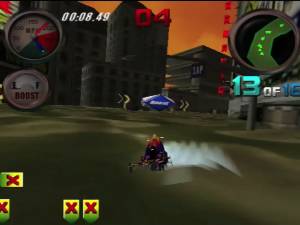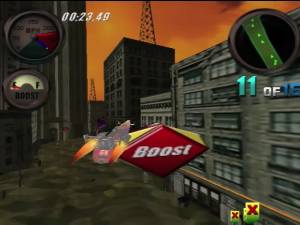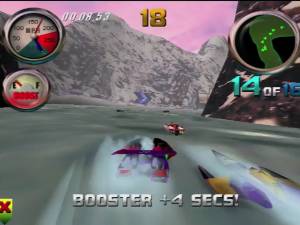 Bottom Line
Midway seems to have taken a liking to the Dreamcast and we gamers are all the better for it. This game is really fun yet very challenging. The track designs are unparallelled and the different boats are great. I recommend picking this game up. I just wish it was not such a pain to restart a race because you will be doing it often enough.