Hyper Dunk - The Playoff Edition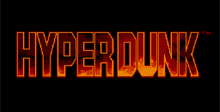 a game by Konami
Platform:

Genesis
See also: Basketball Games
Konami's Double Dribble: The Playoff Edition for the Genesis is aptly named. Double Dribble is just that -- a violation. The graphics and controls aren't good enough to make this the accurate basketball simulation it wants to be.
Charging!
Double Dribble isn't licensed by the NBA Players' Association, though the game's 16 teams do come from NBA cities. The teams closely reflect their NBA counterparts in athletic talent and team makeup, with ratings in seven different categories, such as speed, power, shooting, and strength.
You can play exhibitions or a 16- team tournament.
ProTips:
When a player starts to slowdown or bend over in fatigue, give him the hook so he can get some rest.
Rub a defender off your teammate for a make-shift pick and an open shot.
Press Button C to punch an opponent and steal the ball. Do this just as he picks up his dribble and you'll almost always get the turnover.
Konami is promoting the game's eight-player ability. Unfortunately, the eight-player, four-on-four game is almost impossible to pull off. Each player is represented by two small on-screen letters (PG for Point Guard, for instance), and these letters are so small that they easily get lost among all the action. Plus, coordinating four friends to play as a single team is extremely difficult. Barely above-average controls don't help the execution. The players are responsive enough, but their defense is a joke. You get better results punching an opponent than you do playing tight D.
Fouled Out
The graphics are inconsistent. While the players are nicely detailed, their moves are choppy -- shots and passes look like they're being performed by some Venice Beach muscleheads. The sound, which can be shut off or changed, is the usual mind-numbing stuff that you've heard before in other sports games. And the announcer is a little too excited, as if he should try a decaffeinated coffee.
Double Dribble lives up to its name -- it's a turnover.
Hyper Dunk - The Playoff Edition Downloads

Hyper Dunk - The Playoff Edition download
Also Known as Double Dribble, It's a very fun and easy to learn basketball game from Konami, So so grapics and sound but it plays great!.