Iron Man X O Manowar In Heavy Metal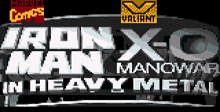 MAKING METAL
Over a year in the making and nearing its final stages, Marvel Comics' IRON MAN and Valiant Comic's X-O MANOWAR appear in HEAVY METAL, one of Acclaim's most ambitious video game endeavors to date. By utilizing the full capabilities of their Motion Capture Studio (the same studio used in the making of the Batman Forever video game, and other games such as Frank Thomas Big Hurt Baseball and Alien Trilogy), Acclaim is bringing IRON MAN and X-0 MANOWAR's comic book universes to revolutionary digital life and bringing the metal titans together for the first time.
Located in their Glen Cove, NY headquarters, the Motion Capture Studio is the jewel in the crown of Acclaim's technological empire. The black rubber stage with its four high resolution, black-and-white cameras was the scene for the human modeling of HEAVY METAL'S punching, kicking, running, flying, and jumping movements. Captured on film via reflective sensors on actors' black rubber suits, hand-drawn comic art by veteran artists Bart Sears and Dave Johnson, was wrapped around the digital framework of the fighting movements. The end result is movement so lifelike, so fluid, you'll be running for cover. The same treatment was applied to YELLOW JACKET, BLACKOUT, ABSORBING MAN, GLADIATOR, the SPIDER ALIENS and a galaxy of other villains.
Through the use of completely rendered CGI and SGI computer graphics, both the characters and backgrounds have a highly-detailed, 3-dimensional appearance. HEAVY METAL takes this revolutionary technology to previously unreachable levels of realism. You'll never look at video games the same way again.
SPARKS WILL FLY
Out of all this technology comes the meat of any self-respecting video game--the gameplay! From the small but riveting demo that I played, I can tell you that IRON MAN/X-0 MANOWAR: HEAVY METAL delivers. You'll get to rampage your way through seven levels ranging from the R&D lab of Stark Industries to the South American rain forest and the New York subway (not to mention Arnim Zola's living castle)--each with its own different environmental effects. But you'll need more than just a quick trigger finger and a hard right cross to make headway in HEAVY METAL. Only by using strategy to complete your missions will you be able to reach the secret final bonus level: an apocalyptic, one-on-one battle between IRON MAN and X-0 MANOWAR!
It's a given that heavy weaponry is a crucial element of IRON MAN/X-0 MANOWAR: HEAVY METAL. IRON MAN'S arsenal includes Laser and Proton Blasts, Visible Light Beams, Repulsor Blasts, and Force Fields, while X-0 MANOWAR relies on his Ion Cannon, Cellular Disrupters, Iron Sword, Armadillo Mode and Illumination Omni beam. And on top of this fearsome firepower, each metal warrior will be able to punch, jump, speed-run and soar through the danger-laced skies!
FORGING AHEAD
IRON MAN has completely new armor exclusive to this game (also featured in the crossover comic book from Marvel and Acclaim).
HEAVY METAL also features full-motion computer animation, similar to the groundbreaking technology featured in the movie, Toy Story, and a hard-driving rock music soundtrack.
BOTTOM LINE
This game may well set a new standard in Super Hero action video games. Until then, you'll just have to be content to know that IRON MAN/X-0 MANOWAR: HEAVY METAL will be simply the most thrilling, immersive and technologically astonishing game of the year.
Think you can handle that?
MANUFACTURER - REALTIME
THEME - ACTION
NUMBER OF PLAYERS - 1 or 2