The Simpsons - The Itchy and Scratchy Game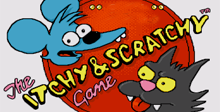 Platforms:

Genesis

SNESGameGear
See also: The Simpsons Games
It's time for The Itchy and Scratchy Game. Join this zany cat-and-mouse team as they take you on some outrageous adventures. It seems wherever Itchy finds himself, Scratchy is right there to try and slice him in two. From the Old West to Medieval times, Itchy will have to stay on his toes or he might lose them. Hysterical antics from this beloved duo are the highlight of this long-awaited game. Itchy can use anything from bazookas to chain saws to outlast Scratchy. What a riot! If you love the cartoon, then you've got to give this a try.
MANUFACTURER - Acclaim Entertainment, Inc.
DIFFICULTY - Variable
THEME - Action
NUMBER OF PLAYERS - 1
The Simpsons - The Itchy and Scratchy Game Downloads

The Simpsons - The Itchy and Scratchy Game download
Once again, these TV stars headline in a disappointing game.
This cat and mouse team feebly attempts more platformhopping antics. As Itchy the mouse, you must defeat Scratchy with everything from hedgeclippers to a bazooka.
The graphics are okay; the look approaches the 16-bit versions. However, the sound is grainy and boring for the high-energy chases. You also don't get the boss battles on each level.
While the comedic potential is high, the characters' stiff attacks and the seen-it-before levels defuse the excitement. This game just doesn't capture Itchy and Scratchy's spunky cartoon nature.
ProTips:
At the end of the Medieval Bead level, go behind the wall to teleport to a room with power-ups.
Get power-ups like the bazooka to make Scratchy an easier target and to make your attacks more effective.
The masters of mayhem have their own game! From the hit cartoon series The Simpsons, Itchy and Scratchy are an ultraviolet cat-and-mouse team who find seemingly infinite ways to destroy each other. The cartoon shorts are intended to parody the violent nature of those Saturday morning cartoon shows we all know and love. When you put this cartridge in, you have the unique experience of controlling one of the sadistic furballs; namely, Itchy the mouse. You must slash, bash, pound, cut, crush, dice and incinerate your arch-enemy Scratchy before time expires.
Itchy has many weapons at his disposal. Hitting Scratchy with the bone, axe, hammer, raygun, blowtorch, sword, etc., will reduce his life meter. When it's completely empty, you win the level! Watch out, though. He's not going to stand by and let you turn him into kitty litter. He likes roasted mouse as much as any cat!
MANUFACTURER - Acclaim
DIFFICULTY - Variable
THEME - Action
NUMBER OF PLAYERS - 1
Manufacturer: Acclaim
Machine: Super NES
You'd think that this would have been a really great game, right? You could have hours of fun making either Itchy or Scratchy bash the hell outa each other, right? Well, forget it! There's no controlling Scratchy and the game just isn't fun!
Manufacturer: Acclaim
Machine: SNES
You'd think that this would have been a really great game, right? You could have hours of fun making either Itchy or Scratchy bash the het outa each other, right? Wet, forget it! There's no controlling Scratchy and the game just ain't fun!
Manufacturer: Acclaim
Genre: action
Players: 1
Levels: 7
Difficulty: adjustable
Hey-hey, gang! It's time for a visit from the long-lost evil twins of Tom and Jerry! Bart Simpson's favorite cartoon characters, Itchy and Scratchy, have finally reached headliner status in The Itchy and Scratchy Game for SNES, but the only torture here is inflicted on the gamers who play it.
You might think the intense rivalry between the two characters would at least provide for some interesting head-to-head action. Think again. You're in luck if Itchy's your favorite of the two, because he's the only one you can control throughout the game. Scratchy, his army of Scratchlings, and a variety of other enemies look to hit, poke, bum, and blast Itchy out of existence for seven levels. Both Itchy and Scratchy begin each cartoon with a mallet but can find other, more damaging weapons scattered throughout the stages. Once Itchy drains his cat friend of all his energy, he must use items he collects from the smashes Scratchlings to defeat the evil feline Scratchy boss.
Game play suffers from extensive repetition and poor control and, despite the large number of weapons included in the game, there are too few opportunities to pick them up. For true Simpsons' fans, the Itchy and Scratchy level in Bart's Nightmare is still the best place to look for this duo.
Graphics: 6
Music & Sound: 7
Innovation: 2
Gameplay: 3
Replay Value: 3
Overall: 35%
Machine: Genesis, Game Gear, Game Boy.
Manufacturer: by Bits Studios. publisher Acclaim
Kitty Litter!
They fight, and bite, they fight and bite and fight!
Get ready as Itchy & Scratchy slice, dice, crash and bash their way into your home. This cat's gonna need more than nine lives to survive bazookas, grenades, chain saws and flame throwers. There's more than one way to skin a cat...
So, are you mouse enough?!
Simpsons fans, beware! The cat-and-mouse team stars in another disappointing game.
As Itchy (the mouse), you swing your mallet at Scratchy through levels that range from undersea to prehistoric settings. Beat him in each level, and you face a boss. Unfortunately, the action's so mindless that you won't stay for the bosses.
ProTips:
Stand above Scratchy to hit him safely.
At the end of the Old West, hit the panic button four times for a path to a 1-up.
Weak graphics serve up pale colors and familiar backgrounds. The animations of squished characters are entertaining -- once. Peppy music drives the action, but there are almost no sound effects.
The control is the worst part. In a game of jumping and hitting, the lack of jumping attacks and the inaccurate weapons make you itch for a different game.
If the video game industry ever comes crashing down, Itchy and Scratchy will be near the top of the "Blame Us" list.
The Itchy and Scratchy No-Show
The first thing you'll notice is that this game is missing the things that made Itchy and Scratchy famous: their theme song, the rest of the Simpsons menagerie, and the humorously excessive violence, which is toned way down.
Instead, you get a cat-and- mouse version of Chuck Rock. As Itchy, you cruise through levels bopping Scratchy with such trite weapons as axes and arrows. You hit Scratchy until he expires, then you fight the boss. That's it. Scratchy chases you and sends miniature Scratchys after you, but any novice could knock this puss from his boots.
Eat My Shorts
The pale, lifeless graphics depict backgrounds that could be from any game and sorely lack the Groening (The Simpsons creator) touch. Watching this game is definitely less fun than watching the cartoon show.
Music? Without the theme song, what music would suffice? The remaining sounds are as lifeless as the graphics.
Acclaim hasn't done the Simpsons license a lot of justice in this or previous games. It's time to let the cat out of the bag, and see what other company can capitalize on the Simpsons' video game potential. This one's just too...mousy.
ProTips:
The easiest way to declaw Scratchy is to wait on a cliff until he materializes below you, and then whack him senseless.
Inside this room are two 1-ups. Check the top of the screen when you enter.
Look for floor triggers that light up when you pass them. They reveal hidden platforms.
A series of varied arcade games based on the characters created by cartoonist Matt Groenig (Life is Hell) for the Fox Television Network.
Take control of Bart Simpson's favourite mouse Itchy in this game where your aim is to get Scratchy the cat, your nemesis. Using everything from flamethrowers to axes you can act out the cartoon instead of just watching it on the TV now. Itchy always wins on the show and it's up to you to make sure the same thing happens here.
See how many ways there are to skin a cat in THE ITCHY AND SCRATCHY GAME.
Itchy and Scratchy Game features:
Based on the cartoon from THE SIMPSONS
Take control of Itchy
Use a wide variety of weapons
Skin Scratchy